Why should I use artist.tools?
We're just one of many different marketing tools that exist for artists, but not many come close to our value.
Only ~1 in 20-50 playlists on Spotify have contact details. You can search manually.
Or you can use artist.tools to instantly filter out irrelevant playlists.
SubmitHub pitch for up to $3 per curator/campaign at PlaylistPush for $300.
Or pitch hundreds of curators a day, every day, for only $15/month with artist.tools.
Buy a curator contact list that goes out of date.
Or have artist.tools pull the most relevant contact details whenever you need it.
Are these contacts updated?
On any given search, we pull fresh data from Spotify's API. You can rest easy knowing that you are messaging curators at their most up-to-date contact detail.
Why search for playlists?
Today, playlists are the new radio. Reaching out and developing relationships with curators/playlist owners is a critical step in developing as an artist in this era.
Playlist placements generate passive streams for your profile and help trigger Spotify's algorithms in the long-term.
Is it free to submit music?
The answer is complicated.
​
Some playlists accept free submissions, while others may ask for a fee to listen, or even payment for placement.
​
How you operate your playlisting campaigns is up to you, but we recommend doing your research if you plan to pay playlist curators.
​
Visit the Resource centre in your dashboard for more information on navigating paid placements.
Why isn't everybody using this?
This technology isn't an industry standard yet, although many industry insiders already use artist.tools.
Experience the advantage for yourself.
artist.tools vs Chartmetric
It's not an apples-to-apples comparison...
...but if we're talking Spotify playlists, we offer everything Chartmetric does at 1/10th the price.
​
And additionally:
- Quality and listener insights
- Scam, bot, and fraud data
- Curator/playlist contact info
- ...and probably more cool stuff
Have another question?
See the chat button in the bottom right?
​
We're only a message away. 🙂
Frequently Asked Questions
In response to Chartmetric removing playlist data for free users,
we now provide 7 days of historical data for free

and Full Access for only $15/month.
Recently Evaluated Playlists
Recently Indexed Curators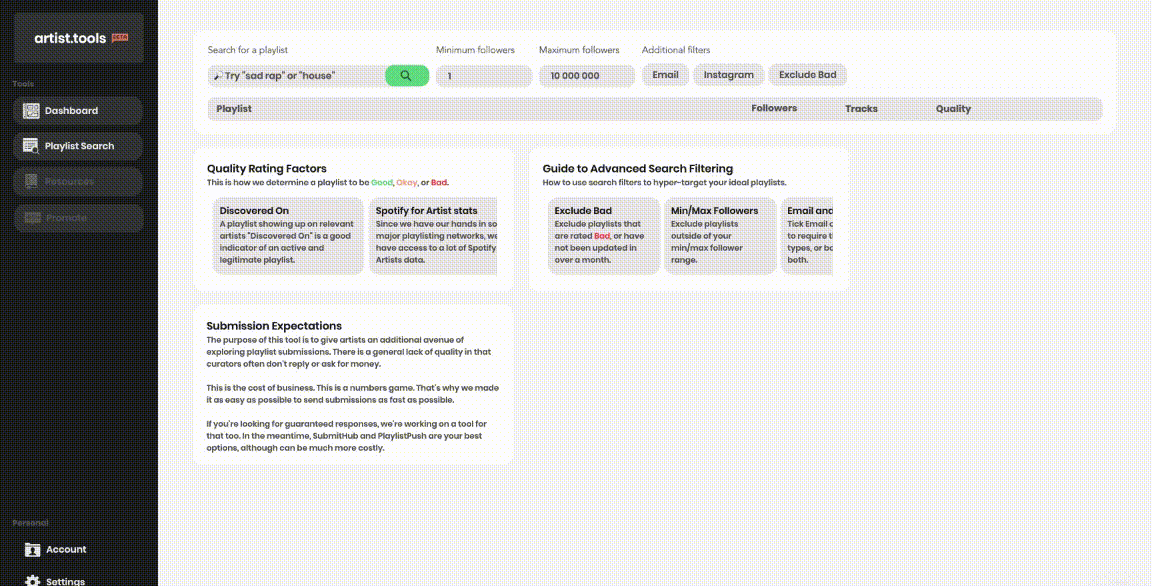 Comprehensive playlist and curator data analytics for music industry professionals.
📊 Track playlist, curator & keyword data
📧 Contact details on 12,742 playlists
🏆 Quality indicators on 6,930 playlists
🤡 985 known scam playlists indexed
Playlist and curator analysis
+ Full historical database
+ Contact details on 18K+ playlists
+ Listener and quality insights
+ Additional curator analyses
+ Update data in real-time
Limited Access
Free Forever
Playlist and curator analysis
7 days of historical data
Search
Search by keyword, genre, or artist from over 17,000 playlists with publically listed contact details.

Reach out and submit your music.
Fraud Database
Avoid fraudsters, botters, and scammers with our fraud detection and ever-expanding database of known playlist scams.
Quality Insights
We provide quality insights like listener estimates, bot detection, growth trends, and other insights based on historical data.
Advanced Filters
Hyper-refine your playlist search by size, region, and contact preference. You can also opt to remove low-quality playlists.
Analysis
A full breakdown of a playlist (or curator). Data like playlist quality, tracks, popularity score, keyword ranking, contact info, and more.
Keyword Ranking
Track a playlists historical keyword ranking over time. Provide a keyword and a market and we'll see where it ranks in that country.
Lists (soon)
Build out lists of playlist contacts you can export as universally usable CSVs. Import into MailChimp, Sendinblue, etc.* (Soon)
*Must comply with the curator's local privacy laws.
Always up-to-date
Playlist data is pulled in real-time, every time. We also fetch new info on a playlist every 24 hours to update its historical data.
Want a feature?
Let us know in the live-chat to the bottom right.
Find playlists accepting submissions that include specific artists or genres
Send personalized emails with our Gmail integration in under 10 seconds
Easily build out quality email lists
View listener estimates and quallty indicators to see how active a playlist is
Avoid playlist scams by validating against our fraud database
Data Analysis
Use listener estimates to calculate playlist placement stream revenue
Use daily and historical growth data to infer growth mediums, spot fraudulent growth, and more