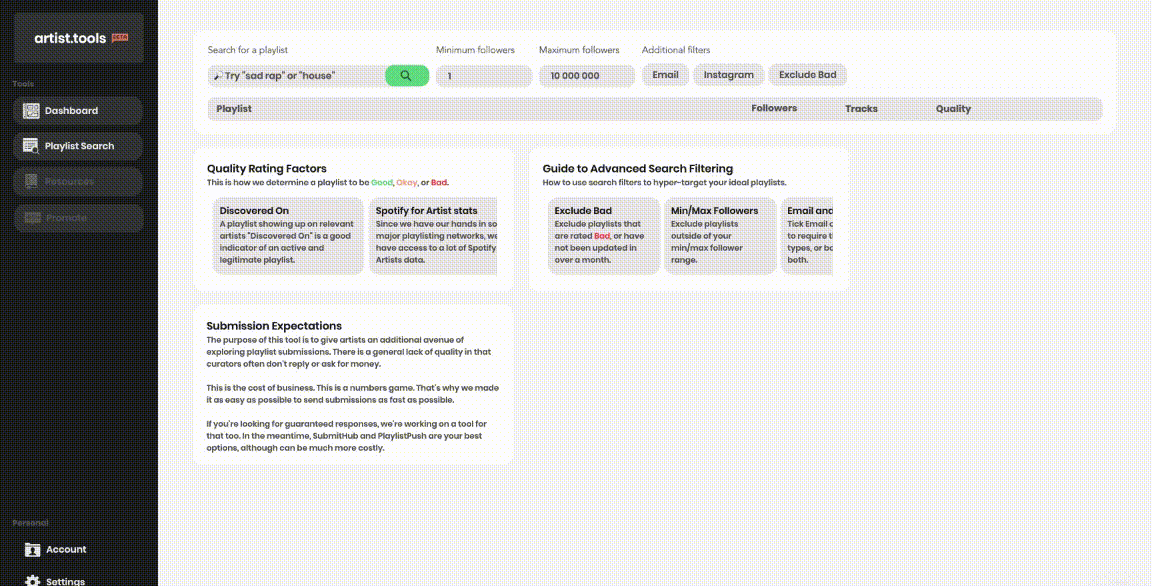 Marketing Tools for
Spotify Artists.
Powerful Spotify marketing tools for musicians, managers, and record labels.
🔎 Playlist Finder: Submit to playlists
📧 Email Finder: Build out email lists
⏲️ Quality Check: Listener data & analytics
Playlist Search
Source Spotify playlists
currently accepting submissions

. Search by artist, genre, or keyword and refine by size, quality rating, or contact type (Insta/Email).
Email Finder
Find and filter thousands of publically listed music curator emails. Cross-reference that with data like where we sourced the contact & their playlist quality.
Quality/Listener Data
Get insight into how many listeners a playlist has, how it was grown, and when it was last updated. Want a specific playlist evaluated? We can do that for you too.
Always up-to-date
We pull contact details from Spotify playlists in real-time, every time. Rest easy knowing you're contacting curators at their most up-to-date contact detail.
What we're working on
New tools in motion at artist.tools:
- Smart Presaves: Accumulate carry-over saves
- Curator Finder: Find YT/Spotify/etc. curators
- Playlist Check: Check playlist quality/data
​
Unlock all contact details
One price

gets you

everything

. It's better to not overcomplicate these things.
Why should I use artist.tools?
We're just one of many different marketing tools that exist for artists, but not many come close to our value.
Only ~1 in 20-50 playlists on Spotify have contact details. You can search manually.
Or you can use artist.tools to instantly filter out irrelevant playlists.
SubmitHub pitch for up to $3 per curator/campaign at PlaylistPush for $300.
Or pitch hundreds of curators a day, every day, for only $15/month with artist.tools.
Buy a curator contact list that goes out of date.
Or have artist.tools pull the most relevant contact details whenever you need it.
Are these contacts updated?
On any given search, we pull fresh data from Spotify's API. You can rest easy knowing that you are messaging curators at their most up-to-date contact detail.
Why search for playlists?
Today, playlists are the new radio. Reaching out and developing relationships with curators/playlist owners is a critical step in developing as an artist in this era.
Playlist placements generate passive streams for your profile and help trigger Spotify's algorithms in the long-term.
Why isn't everybody using this?
This technology isn't an industry standard yet, although many industry insiders already use artist.tools.
Experience the advantage for yourself.
Is it free to submit music?
The answer is complicated.
​
Some playlists accept free submissions, while others may ask for a fee to listen, or even payment for placement.
​
How you operate your playlisting campaigns is up to you, but we recommend doing your research if you plan to pay playlist curators.
​
Visit the Resource centre in your dashboard for more information on navigating paid placements.
Have another question?
See the chat button in the bottom right?
​
We're only a message away. 🙂
Frequently Asked Questions
For Artists
"Connecting with curators has always been a difficult task for me. artist.tools offers a value-friendly way to run playlisting campaigns for my projects. Love the team over there!"
For Managers
"There are very few services out there that are as game-changing to the music industry as artist.tools is. They have become an indispensable tool for me and my artists, and have made pitching to playlists a total cakewalk."
Aaron Whittington
Artist Manager
For Labels
"artist.tools has made pitching our label releases 100x easier. They are a welcomed addition to the marketing workflow for any modern music company."
Systemic Entertainment
Indie Label
Hey artists! What's a tool you're looking for?

Let us know!
Test playlists. Good choice!
Line 2